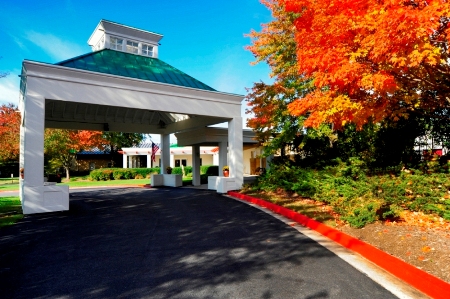 Thank you for visiting us today.
We look forward to welcoming you.
Growing older can bring special needs - physical, emotional, social. For many seniors, quality of life depends on achieving the right balance between home comforts, personal interests and the need for continuing, accessible health services.
At Regency Park, we understand the importance of balance. Therefore, we have created a community that surrounds each senior with not only the best in residential living, but with high-quality, personalized health services. Our concept provides a total approach to senior living that centers around the individual. From simply lending a helping hand to providing higher levels of continuing assistance, our unique combination of care and comfort creates an environment that supports every facet of a resident's life- both today and tomorrow- and ultimately leads to greater daily satisfaction.
From its classic facade to its gracious interior decor, Regency Park has the invitingly familiar look and feel of home. Yet every aspect has been carefully planned to create a safe and secure environment for residents and to ensure swift and efficient delivery of highly personalized services. Each suite features a range of modern amenities, including private bath with shower, private telephone and cable television access. Residents enjoy the convenience of weekly housekeeping and linen service- and the security of a 24-hour emergency response system. Plus, a concierge stands ready to assist residents with special arrangements and requests.
Delicious meals are served in the community's fine dining room, with an attentive wait staff. Menus are coordinated by a registered dietitian to ensure proper nutrition. Enlivening the daily fare are festive "theme" meals. Residents can use our private dining room for entertaining family and friends.
Social life abounds at Regency Park, thanks to the community's full complement of offerings. Lounges/activity areas in each residential living area provide cozy places for neighbors to gather. Craft workshops, movies, and exercise programs are available. For the spiritual needs of our residents, religious services are held on the premises.
"Quiet Waters" at Regency Park
Alzheimer's Care Features
To serve residents with Alzheimer's and other cognitive impairments, Regency Park has developed the specialized "Quiet Waters" program. Private rooms in a secure area incorporate innovative architectural features to provide a comfortable, homelike atmosphere, while also promoting safety and positive reinforcement.
Care for persons with Alzheimer's disease and other forms of memory impairment requires specialized knowledge, dedication, patience and compassion. At Regency Park, we have designed "Quiet Waters", as a home with care that combines proven approaches provided by a sensitive, specially trained staff.
Residents in "Quiet Waters" live in a separate, secure section of the community, specially designed to provide a familiar and engaging environment.
"Quiet Waters" features activity areas where residents and staff can reminisce about nostalgic items such as antique rotary telephones and manual typewriters and the clothing styles of their past. Through discussion of activities and objects from an era familiar to residents, staff can provide thoughtful attention to their needs while helping them enjoy their days in surroundings that make sense to them. As therapeutic as this process is for the resident, family and friends often learn something new about their loved one's past as well.